Race #6. Wow, how time is flying by this year. Only two races left in 2014 CCORS! The guys in Jacksonville are planning a different race course this time around…they are working to eliminate areas on the trail that are too wet to ride. The total distance of the laps will be reduced from 7 miles to approximately 5.5 miles. Check out the new map with eliminated sections in blue.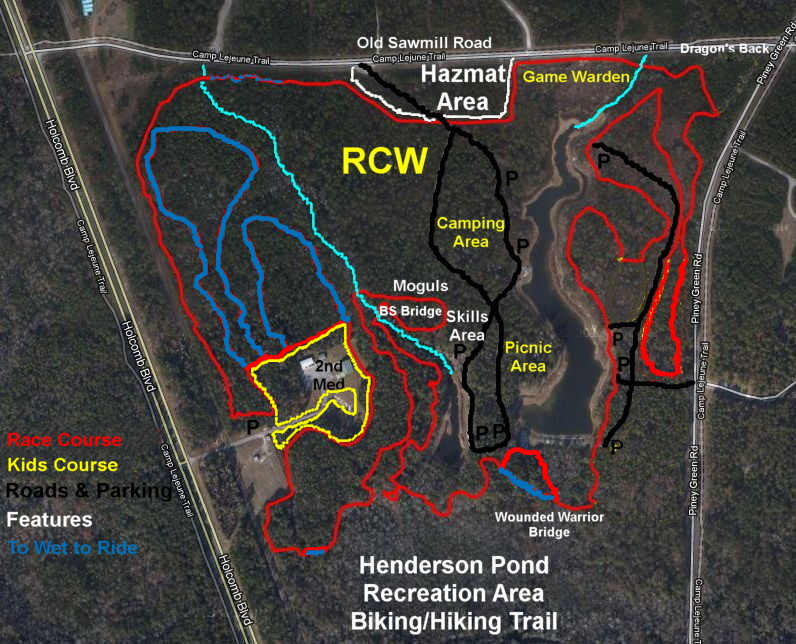 Two things for you to remember about racing on the military base in Jacksonville:
Proof of insurance. The insurance ID# on your vehicle registration does not count, your proof MUST show a valid expiration date.
All adult persons should carry a valid ID card of some kind.
I am really looking forward to making the trip to Henderson Pond on Sunday because the weather is going to be fantastic, the trail promises to be much drier, and the racing will be intensely competitive.
Remember in order to place on the series podium a rider must enter at least 5 races in a given category (you do not need to finish 5 races, i.e. you can DNF and still place, although this is unlikely). Be sure to check out the section "Points System" on our "About" page to see all details on bonus points and series podiums.